News
Corporate Art Programs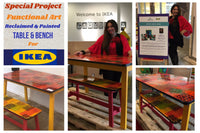 CORPORATE ART PROGRAMS:
Throughout the years I have had the opportunity to participate in special art project sponsored by various corporations including IKEA. Best Buy and Dyson.
The IKEA project
This corporate sponsored art project included the transformation of a Norraker Ikea table and bench into beautiful and unique art pieces.
The project highlighted the involvement of IKEA in the community and the brand participation in the EMEA fund which encourages the use of wood from properly managed forests.
I had a wonderful time participating on this project, transforming these 2 pieces into colorful pieces of art. My gratitude towards all the wonderful individuals and organizations who make the project and my participation possible including Business for the Arts in Broward County and the IKEA corporation, particularly the marketing and management team of the amazing store in Sunrise, FL. 
The Best Buy / Dyson Art Project: 
Last year I participated in an art program sponsored by both Best Buy and Dyson.  For this particular project, I traveled to Los Angeles, CA to create art pieces to be displayed at the Best Buy Costa Mesa store and to and paint live during the Dyson store launch.  This project was a lot of fun and a great success for the sponsors who made it possible. As you can imagine, organizing these things takes a village! I am grateful for all the wonderful individuals who made it possible including the Dyson and Best Buy corporations and particularly the wonderful team at the Best Buy store in Costa Mesa, California, who welcomed me with open arms and made me feel at right at home. 
To receive updates about art specials, exhibitions and invites to event such as these, please register to receive my newsletter.
In art,
Tatiana Cast 
Info@tatianacast.com 
www.tatianacast.com