Events
October 10th. Art Opening. Join us!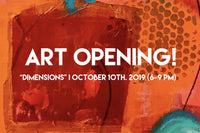 Art loving friends,
I am excited to invite you to the opening reception of my next art exhibition in Hollywood Florida on October 10th (6-9 pm) 
"Dimensions" is a beautiful showcase my art and the work of local artists Julio Green and Tristina Dietz. The exhibition is part of the "Arts in Public Places" program of Broward County. My participation as artist and curator was juried by the Art Selection Committee of the city of Hollywood. The art presented in the show is truly exquisite. See you at the opening!  
Please refer to the Press Release included below for details.   
**************************************************************
Art Opening
**************************************************************
Press Release. Hollywood, FL. September 19th 2019. For immediate release.  
"Dimensions" Art Exhibition by Tatiana Cast, Tristina Dietz Elmes and Julio Green. Opens October 10th

 

at ArtsPark Gallery in Hollywood, Florida.
Housed in the stunning Hollywood ArtsPark Glass Gallery, the "Dimensions" exhibit showcases the work of local artists Tatiana Cast, Tristina Dietz Elmes and Julio Green. 
In this show Tatiana Cast presents an expressive dance of flowers, horses and hummingbirds thoughtfully created using unique imagery and re-purposed elements. Tristina Dietz Elmes' colorful abstracts and intriguing Asian Fusion graffiti exude her joyful energy. And Julio Green surprises with his slick urban aesthetic, boldly transforming industrial parts into eye-catching wall art.
 "Dimensions", featuring the painting personalities of myself and two local creators, is truly an exciting collector and designer art show." - Artist & Curator, Tatiana Cast  
Opening Reception: Thursday, October 10th 2019 (6:00 - 9:00 pm) 
Location: ArtsPark Gallery, One Young Circle Drive, Hollywood, Florida 33020  
The "Dimensions" exhibition is part of Broward County's Arts in Public Spaces program. The Artists showcased have been juried and chosen by the City of Hollywood Artwork Selection Committee. This exhibit serves as an introduction of these three talented Florida artists and heightens public awareness of the visual arts in our community. 
Please RSVP  via Info@TatianaCast.com or by calling  1 (305) 209-0305
 "Dimensions" ArtsPark Gallery, One Young Circle Drive. Hollywood, Florida

 
Press Contact: Tatiana Cast 
info@tatianacast.com 
www.tatianacast.com