Events
Dec 3rd-8th Miami Art Week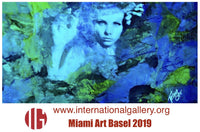 This year, during Miami Art Week / Art Basel 2019 (December 3rd to 8th)
I invite you to enjoy a beautiful Fine Art Sale via International Gallery ~ www.internationalgallery.org  
The Gallery's Art Basel Special includes unique artworks by talented artists and many of my Original Paintings and Fine Art Limited Editions. 
Every artwork included in the Gallery's Selection is breathtaking and will make a perfect addition to your exclusive art collection!
For the art collector wishing to add significant artworks to their collections, the  gallery offers various finance options. 
Enjoy the works and happy Miami Art Basel 2019! 
Tatiana Cast 
_________________________
International Gallery
info@internationalgallery.org