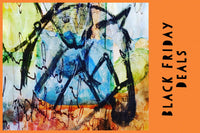 Hello art lover! 
I am excited to offer you great art deals from now through Black Friday and until Cyber Monday. Don't miss it! My original paintings, limited editions and art prints are a great addition to any art collection and a fun way to uplift office or home decor with a touch of color. My stylized artworks also make great art gifts! 
Check out the samples included below for fun ideas on how to decorate with my art. The artworks included in the images are for sale and available via my website.
Note: Keep in mind some limited editions are sold tastefully framed or elegantly presented on a fine art wood board. On the other hand, open edition art prints are affordable and sold without a frame. The description on each indicates if the artwork is sold framed or unframed.  
Enjoy decorating your home or office with beautiful and unique art! 
Thank you for your interest in my art. Hope my artworks ring your joy. 
Tatiana Cast 
www.tatianacast.com