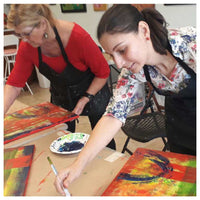 Dearest, 
I wish you a wonderful new year! May you be blessed with good health, love, prosperity, joy, art and creativity! 💗🎨

To start the year with creativity, I invite you to join my class

 

Acrylic Painting for Beginners 

on Saturday, January 5th.

My teaching system has been developed using my own experience as a self-taught artist, and during years of teaching art creation to students of all ages and skill levels. I keep my classes

 

FUN and EASY,

 

guiding students

 

step-by-step

 

in the development of their creativity and the creation of beautiful and unique paintings.

This particular class is very popular and great for

 

beginners of all ages.

 

Join us! We'll have A lot of FUN!  

Location:

 

Hobby Lobby in Davie, FL.
Time:

 

2:30 pm to 5:00 pm. 
Price:

 

$35 per student

*Class Space is Limited. Register ASAP!
For more info and to

 

BOOK YOUR CLASS

 

follow the link included below...
Acrylic Painting for Beginners
$35.00

Give yourself a gift of Art!

New Year Art Sale 
Hummingbird and Hibiscus 1
$15.00 - $125.00
Blue Blossoms
$15.00 - $299.00
Horse facing East
$40.00 - $499.00

As an introduction to my online store, I am offering great art specials and FREE standard shipping to the continental United States. Take advantage of these limited time offers and shop today! ❤️


Wishing you love, peace and beautiful art!


Tatiana Cast 
Studio: (754) 220-3080
E-mail: info@tatianacast.com 
https://tatianacast.com/