Newsletter
Introducing new collection: Butterflies!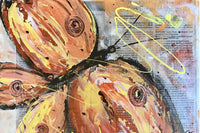 Dear art lover:

I am very happy to introduce my collection of Butterfly paintings this spring. I love the color and playfulness of butterflies. I am also in awe with their own process and believe their existence is a gift to us. With their short lives they remind us to cherish each day and freely welcome new beginnings. 

I had a great time creating my butterfly paintings and hope these playful images will also bring you a lot of joy! 
The prints are of top quality, come in various sizes and are sold elegantly matted, conveniently ready for you to add your favorite frame and enjoy!   
***As an introduction, these beautiful butterfly prints are on sale and come with free standard shipping to the continental United States!. Don't miss this great offers.
Order today!  
Blue Butterfly
$15.00 - $75.00
Red Butterfly
$15.00 - $75.00
Orange Butterfly
$15.00 - $75.00
Purple Butterfly
$15.00 - $75.00
In addition to top quality prints in various sizes, this beautiful collection includes fun retail items you can enjoy or choose as gifts. 

*As an introduction collection items are on sale. This is a temporary offer. Don't miss it!

 

Order your beautiful prints, bags and mugs today!  
 
Orange Butterfly Tote Bag
$23.50 - $26.50

Cool facts about my art:

I keep production local. My prints and reproductions are made with love in the USA!  ❤️

Wishing you love, peace and beautiful art!


Tatiana Cast 
https://tatianacast.com/