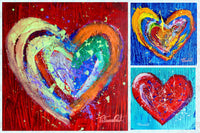 Love is in the air...
The month of love is better celebrated with Art! ❤️ Enjoy my colorful heart paintings! Each artwork is unique and will make a great gift for your loved ones. This also a great opportunity to expand your art collection. Enjoy! 
Fun Decor Idea
Original Mixed Media Art 
Art information: 
I had a a lot of fun creating these paintings as they reminded me that love is joyful and also a very powerful force. Each heart painting is an original artwork created in my art studio over stretched canvas with mixed media. Heart paintings come in various colors, each painting measures 12 x 12 inches and is sold elegantly set in a while frame, ready to be hanged. Original artworks are accompanied by a certificate of authenticity. 
ORIGINAL PAINTING: 12 x 12 inches (30.48 x 30.48 cm) Tastefully presented in a modern white frame. Dimensions w/ frame: 14 x 14 x 1 inches (35.56 x 35.56 x 2.54 cm) *Sold ready to hang. (Accompanied by a certificate of authenticity) 
* Hand made with love in my art studio in Florida, USA. 
Important: My colorful heart paintings are original artworks. Therefore, there is only ONE of each! If you found in love with one, order it before it is sold out. Allow 7 to 10 days for delivery within the continental USA. 
Shipping information:Quotes and shipping promotions included in site apply to  the *Continental USA. For international orders, please send an email with location to receive a quote. Thank you!
In Art ❤️
Tatiana Cast 

www.tatianacast.com