Events
Nov 29th @ 3:00 pm EST: Black Friday Sale via Facebook Live. Join me!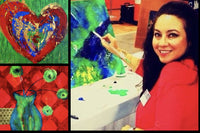 Dear Art Lover! 
Enjoy the fantastic Black Friday Art Deals available on my site!
As an added bonus, on November 29th (Black Friday) at 3:00 PM EST
I will be streaming live from my Facebook page and showing you the artworks included in the Black Friday promotion.
This is a great opportunity to see the artworks as close and personal as possible and shop at the lowest price of the year before the sale ends!  
To join the Live Facebook Event please LIKE and FOLLOW my Facebook Page:  https://www.facebook.com/tatianacastvisualarts/
Once you have done that, you will see this event listed at the top of the page. Please join us and have fun! 
Looking forward to seeing you at the Facebook Live Sale event! 
Tatiana Cast